Delicious Day 5: Josey's Ginger Snaps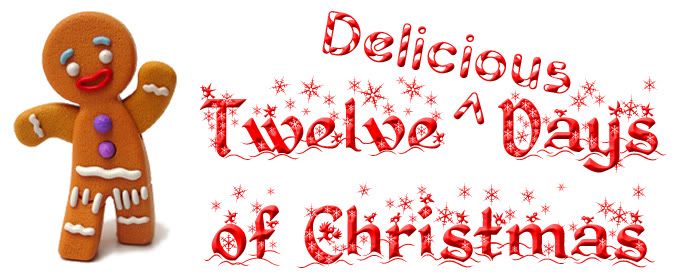 I'm so excited to have my very first guest blogger! (And not just because she saved me making one more treat for my 12 Delicious Days.) Josey and I became friends in film school, and have kept in touch since then. I was so excited when I found out she had a blog, too! Even more excited when I saw it was actually a great blog that I love! And I know you will, too. I'll let Josey take it from here with her Ginger Snaps recipe...

Hello dear Sugar + Razor Blades readers, I'm Josey from Rock, Paper, Knit.
Tish kindly asked me if I would guest blog for her 12 delicious days of Christmas and I couldn't be more excited.
I love baking Christmas cookies so today I'll be sharing a great recipe from my repertoire of go to cookies. These sweet and spicy cookies are a great addition to any Christmas party and can easily be converted into a vegan recipe with a few choice vegan substitutes.
Delicious Christmas Gingersnap Cookies
¾ cup of butter, room temperature (or vegan butter substitute)
½ cup of dark brown sugar
½ cup of white granulated sugar
¼ cup of molasses
1 large egg (or vegan egg substitute)
½ tsp of pure vanilla extract
2 cups of all-purpose flour
½ tsp of baking soda
¼ tsp of salt
2 ½ tsp of ground cinnamon
3 ½ tsp of ground ginger
1 tsp of cloves
Garnish:
¾ cup of granulated white sugar
Yields: about 4 dozen small cookies
In a medium sized bowl, combine butter and sugars and beat well until incorporated. Add the molasses, egg and vanilla and mix until combined.
In a separate bowl, combine flour, baking soda, salt and spices and mix until fully combined; the flour mixture should be a light brownish colour.
Add flour mixture to the butter mixture, a little at a time and mix until fully incorporated. The cookie dough will be slightly stiff; then cover and chill for 20 minutes.
Preheat your oven to 350F degrees. Cover your baking sheet with parchment paper.
Put your ¾ cup of granulated white sugar into a small bowl; it will be used to garnish your cookies. Once the dough has chilled sufficiently, grab a small amount of dough and roll into a 1 cm ball (about the diameter of a toonie) and roll the ball into your garnishing sugar until fully coated and place on your baking sheet.
Using an object with a flat surface (like a drinking glass) flatten the cookies slightly. Space the cookies evenly with about 5 cm space between each, as they will expand slightly in the oven.
Bake for about 10 minutes for a crunchy cookie; for a softer, chewier cookie bake for only 5 minutes. The longer you bake these, the crispier they will be. Place on a cookie rack and let cool and enjoy with a nice glass of milk or soy milk!
Hope you guys enjoy this delicious treat!
Happy Holidays!
Blog:
www.rockpaperknit.blogspot.com