Downloading Detox
A Downloading Detox: Can I do it?
I am constantly downloading movies and TV. Constantly. I have a constant need for
new
,
new
,
new
. I'm a Downloadaholic. It's a form of Shopaholic, which I also am.
The general idea of this need for detox is that I download
too much
. I'm usually pretty good at staying under my 60GB/month internet limit. However, last month I was completely addicted to
Doctor Who Confidential
and knowingly went over my limit because I did not want to wait a week for the new month to start. My sudden
Doctor Who
obsession is part of the reason I think I need a download break. (I downloaded all 5 seasons, watched them twice, then downloaded and watched the corresponding 5 seasons of Confidential within the past two months.) I'm starting to feel like a junkie who is going into debt to feed their habit. Doctor Who (and Confidential) is my crack.
My detox has a few rules and contingencies because it's not as simple as ceasing to download
anything
.
First of all, my downloading will not completely stop. I will continue to download all the shows that I watch that are currently airing. (I don't watch any TV on the actual TV, I download it all.) And, near the end of the month, I can download movies & TV to fill up my leftover download space. (I'm paying for 60GB/month, I'm not going to waste it!) So, it's not really even a detox from downloading, it's more the mentality of
more
,
more
,
more
! I need to stop myself from using up all my download GBs in the first
week
of the month!
The other reason for this detox is the fact that my 'Unseen' (movies and tv seasons) list stands at 87 (out of 968). I think 87 is quite a large number of movies and shows to have downloaded and not watched yet. It gives me this guilt akin to buying a pretty dress or shoes that I liked in the store, but months/years later, have never actually worn.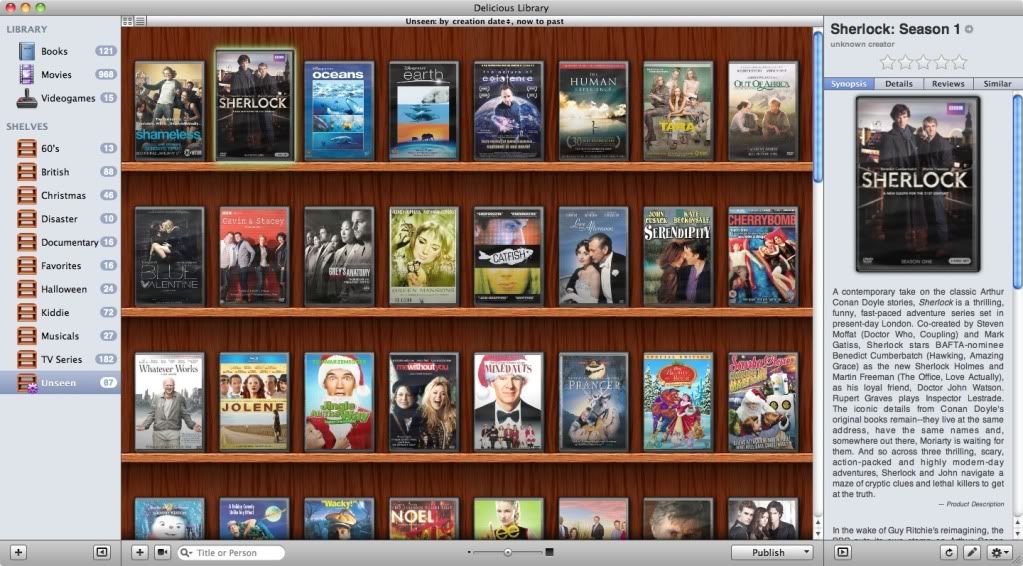 Therefor, the other part of the detox is replacing watching new movies & TV with watching all the unwatched movies & TV I already have. I download a lot of things thinking that I want to watch them, but then I seem to just not be in the mood and they sit there for a long time until I make myself watch them. A lot of my unseen movies are 'classics' that I downloaded just because they are famous movies that people reference all the time, that I felt I needed to see. However, I've never actually wanted to watch them.
Breakdown of 'Unseen':
Movies: 60
Christmas Movies: 10
TV Seasons: 5
Airing TV: 6
Incomplete TV Seasons: 6
So, my goal will be to watch all movies and completed TV seasons before downloading any more. I'll save Christmas movies for Christmas. Incomplete TV shows will have to stay incomplete until my detox is over and I can starting downloading again to complete them.
So, I have 60 movies and 5 TV show seasons to watch before I can download any more. Looks like I'm going to be forcing myself to watch at least one movie and one episode a day for a couple months...
Wish me luck!
P.S. The program I use to organize my movies & tv shows is called
Delicious Library
. You can download it for free, or buy the full version for $25. It's an amazing program. I absolutely cannot imagine my life without it.
P.P.S. I use
Torrentz.com
to search for movies & TV and I use
Transmission
to download the torrents.