Christmas Movies: Santa is Real!
There are two types of (good) Christmas movies. There are movies that warm your heart with stories of people, family, lovers at Christmastime. And, then, there are the Christmas movies that make you want to believe in Santa again. They're filled with elves, Santa, the North Pole, reindeer, and Christmas wishes coming true. These are my favorite Christmas movies in which Santa is real.
(
,
The Santa Clause 3: The Escape Clause
)
These are ultimate Santa-Is-Real movies. Is there any other movie with this much Santa magic, Santa's workshop, Santa belief? Why did they spell Santa Clause with an "e"? Well, as we discover, when Santa falls off your roof, and you then put on his suit, you have to become Santa. As outlined in the fine print of Santa's business card, that's the Santa Clause. Some may disagree, but I think the original movie's sequels are just as enjoyable. The stories get a little more ridiculous with each one, but they're still all fun Christmas adventures, full of Santa fun.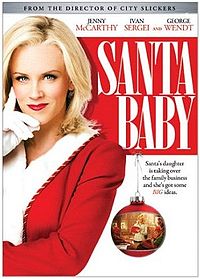 (
)
This Santa-filled movie is closer to falling under the made-for-TV-movie category. It's also a coming home to spend the holidays with your family movie. However, in this case, home is the North Pole and family is Santa Claus. Mary is a high-powered advertising exec. (How many times have you heard that character description?) who is determined to have a little as possible to do with her family, and the family business. That is until her dad, Santa, has a heart attack and she travels home to visit and help out with the pre-Christmas rush. Her workaholic ways take over and she takes over the elves' workshop. Her big city business style doesn't work with the childish elves and Christmas production turns into a disaster. But, don't worry, it's a Christmas movie, so it has a happy ending. Oh, and she ends up having to choose between her high school sweetheart and her New York City big shot boyfriend.
Here's another movie in which Santa is not only real, but family. Imagine how ugly sibling rivalry would be if your brother was Santa Claus. I mean, he has devoted his life to making the children of the world happy and oversees the production of millions of toys every year and then delivers them all in one night. And, you're just trying to get yet another business venture off the ground. Santa agrees to lend Fred money, only if he comes to visit for a few days and help with the Christmas rush. It turns out Santa's workshop is having money troubles of its own. From there, the story is pretty standard. Fred first makes things worse, but saves the day in the end.
Is this not everyone's favorite not-just-for-kids Christmas movie? I've heard that somewhere out there, there are people who don't enjoy
movies, but that can't really be true, can it? And there certainly can't be anyone out there who doesn't love the adorable
.(Although, I think we all agree blonde is not her best look.) Who couldn't love a movie about a 6-foot tall "elf"? You can imagine the shenanigans a man, who grew up as an elf in Santa's workshop, would get up to trying to navigate the mean streets of New York City. Don't forget to answer your phone this holiday season with "Buddy the Elf! What's your favorite color?"