Photo Shoot // Red, Black, and White
There have been periods of my life in which I was often doing photo shoots of myself dressed up in my new favorite outfit, or sporting a newly discovered hairstyle I liked. It's been quite a while since I've had the time and energy to get myself dolled up, get the lights and camera set up and have myself a fun little photo shoot. I haven't even taken a proper photo of myself since before I dyed the red section in my hair, in October. So, it's nice for me to see my lovely vivid red hair in good lighting and a bit of Photoshop effects.
Alright, call me superficial and self-centered, but I like having nice photos of myself to use as my Facebook profile picture, Twitter, blog, etc. It's fun and a confidence booster to do your hair and make-up and put together a nice outfit, and then have photos as evidence of that one time you looked nice to show off.
A high bun is definitely my favorite hair style right now. On myself, and on other girls. I especially love it with my bangs & red section. My everyday make-up is only eye make-up. Lipstick is way to high-maintenance for me, I'll stick to my Dr. Pepper Lipsmacker, thanks. But for photos, I love to rock the bright red lipstick with just mascara on the eyes. I'm sure I'm not the only one who feels that when it comes to make-up you can emphasize the eyes or the lips, but both is too much. Which is why as soon as my lips get any color on them my unadorned eyes will just pop.
I'm also rocking my current idea of a good semi-dressed-up look consisting of an over-sized men's white shirt tucked into high-waisted black shorts. I often wear men's shirts at home and as soon as it's warm enough, I will be rocking them with shorts and boots outside. And the black and white color scheme made my red hair & lips stand out even more.
I guess I should stop talking about the photos and just let you have a look. These are the ones I chose as good enough to enhance a bit with Photoshop and share with you.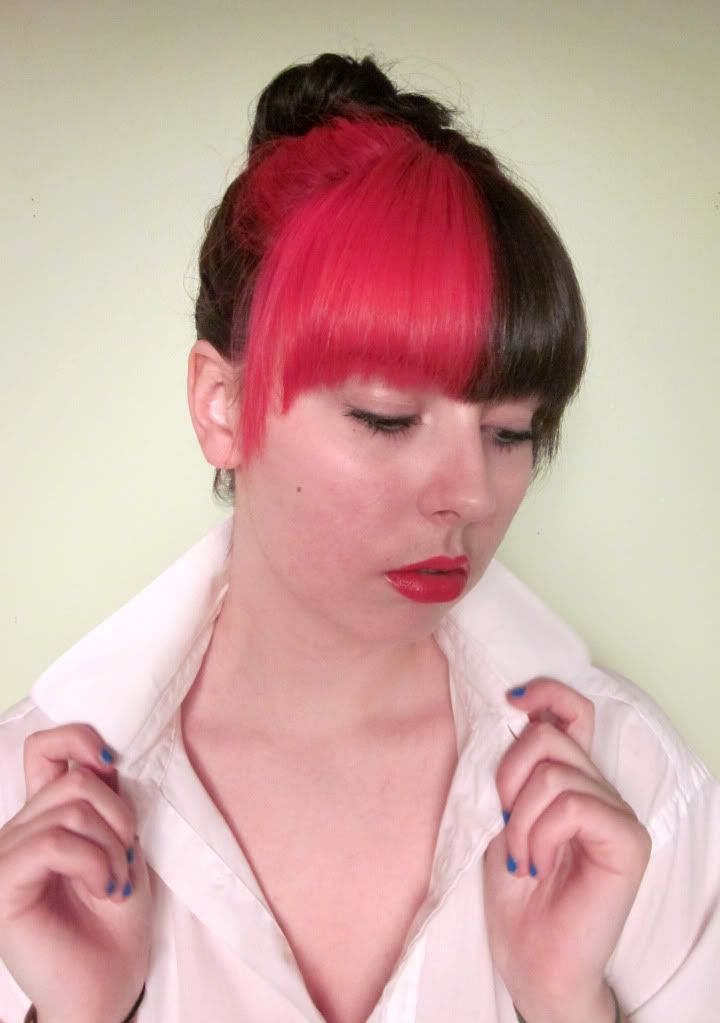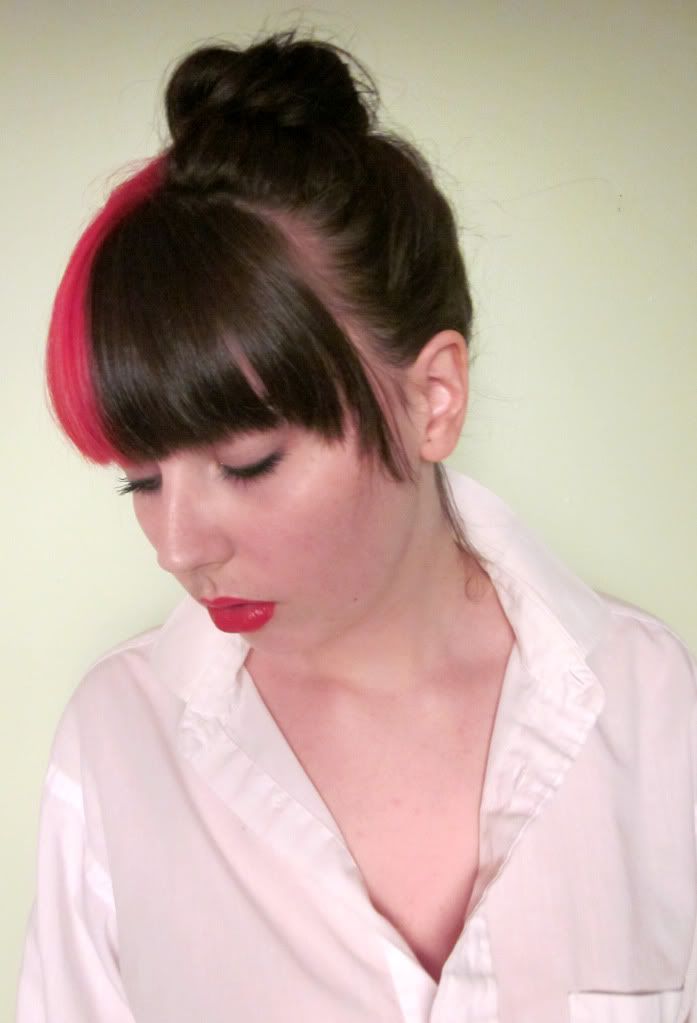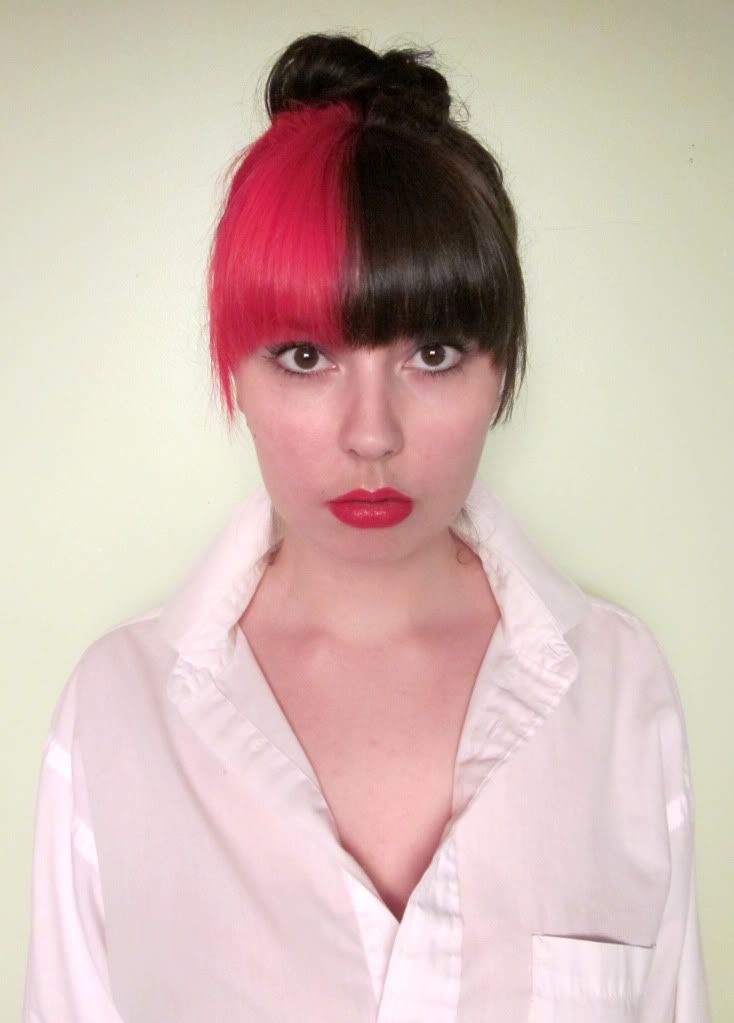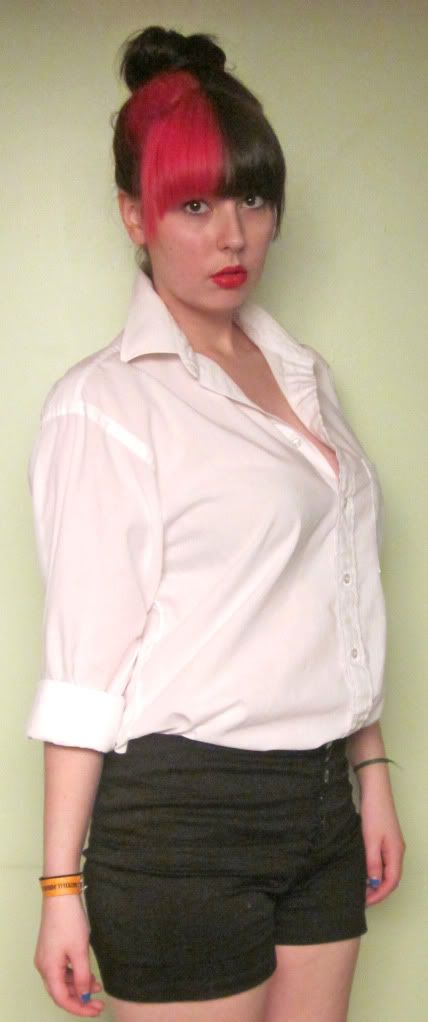 Bonus: An Instagram shot as I was getting ready and my La Photo Cabine of the day after I was done.


And then I had some fun adding effects to some of the photos with the iPhone app PictureShow.