September // Too Cool for School

That's right, kids. I'm too cool for school. But I'm definitely not too cool for learning. I love learning! I love learning about space with series like
Wonders of the Universe
. I love learning about religion reading books like
The Everything World's Religions Book
. I love learning about people, places, news, science, history, movies, everything! That's what the Internet was invented for, right? Sharing information. I'm going to share some information with you right now.
Whether September means back to school for you, or not, I bet it still feels like the beginning of the year. We grow up with this yearly cycle and never really lose it. This time of year also feels like the beginning of the year and time for fresh starts because I'm reminded that my birthday is a mere two months away. In a lot of ways my birthday is my New Year. It's a new year, a new season, it's time for something new. So go do something new. Enjoy the last weeks of Summer, enjoy the beginning of Autumn. Learn something new. Start something new. Plan a kick-ass Halloween costume. Plan a kick-ass end of Summer party. Or just read, watch, and listen to this stuff. It's like school but better because you don't really have to go.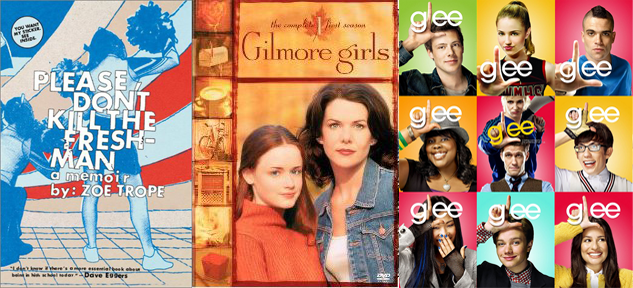 Read
:
Please Don't Kill the Freshman by Zoe Trope
I was fascinated by this teenage memoir when I was a teenager. Living my fairly mundane teenage life, any movie/book/story about a teen with a different, more interesting, life was very appealing to me. In this book, where the characters are all referred to by odd nicknames, our author describes her teenage world of high school, relationships (gay, straight and otherwise), zines, independent publishing, parental angst, and indie music. It's probably too "young" for you if, like me, you're long out of high school. But it's not immature or impossible to enjoy beyond the angsty teen years.
Watch
:
Gilmore Girls
Something about this September, back-to-school, Autumn's-coming time of year reminds me of Gilmore Girls. Mostly just Autumn. Actually, it's more that Gilmore Girls makes me feel Autumn-y. Despite being filmed in California and set in Connecticut, featuring a consistently sunny climate, even with the faux-snow on the ground, Gilmore Girls doesn't feel like a sunshiney California show, or a even a well-represented quadro-seasoned show. It's an Autumn show. Perhaps it's all the Autumn-themed DVD covers they make to try to maintain the impression that this show actually takes place in lovely Connecticut, where there is indeed Fall foliage.
What is my point? Especially when we all know that September is most definitely not Fall foliage time of year. The Autumnal Equinox may be this month, but it's hardly sweater season yet. It is, however, back-to-school season. And Gilmore Girls is not actually about fake New England climates, it's about school. Well, it's not about school, but Rory is in school. A lot of stuff happens at school. There are a lot of school uniforms, school books, mentions of studying and how much she loves Harvard/Yale. So, come September instead of going to school, I watch Rory go to school. (Rory Gilmore. Not my brother who also happens to be named Rory. Although, I think my brother is going back to school this year. But I won't be watching him. Because he lives far away. Thank god.)
Listen
:
Music from Glee
Glee is the only high school show left that I watch. I'm too old to watch those silly high school shows. Except Glee. It's silly in a musical way not an "Oh-em-gee! So much drah-ma!" kind of way. Lucky for you, in three seasons of the show the Glee kids (and adults) have covered a wide range of music genres for you to enjoy. Most of my favorites from Glee are the songs that they really "made their own" including their famous mash-ups. (Surely, you've heard the epic Adele 'Rumour Has It'/'Someone Like You' mash-up.) If you're not already a Glee fan, I suggest using iTunes or YouTube to preview their songs and see what a variety they've done. Also, just watch the show. Just do it.
[Looking forward to more of this in the last days of Summer and into Autumn. My favorite place to visit, the cemetery. Captured with the Hipstamatic app on my iPhone.]
I'm looking forward to...
The Weather Cooling Down- Only Slightly!
Just enough that I can wear long sleeves and maybe even a light jacket in the evenings. I'm not ready to give up my shorts, but I like jackets and sweaters. And I can let my hair down! Be free, hair! Blow in the cool Summer breeze!
Michaels Open House - Sept. 8th
As you may or may not know, I am a
Wilton Method Instructor
. I teach Wilton cake decorating classes at a
Michaels
store. A few times a year Michaels has an "Open House" to advertise all of the classes they offer. We're always trying to make the event better each time to get more people to sign up. This time, we are holding the event outside! Although it is a strain and a drain on my social skills to be an outgoing, charming, small-talking salesperson, I love my job as an instructor and love telling people about the classes and getting them excited about them! I think the day will be a lot of fun and at the end of the day we'll be proud of our success. (If you're in Ottawa-
here's more information
.)
My Birthday/Halloween Is Only Two Months Away!
I always obsess over my birthday plans. Every year I try to make it amazing and every year it disappoints me. (Except my 20th. Thank you, Addie.) This year I plan to take an entire week off from work (something rarely possible since I started teaching 4-week cake courses). I had a plan, but wasn't able to save enough money for it. So, now, I'm brainstorming affordable, probably local, ideas.
Last year my Halloween costume was Knives Chau (from the
Scott Pilgrim
comics/movie). This year, I'm fairly decided that I'm going to be Snow White. I've thought about being Snow White for many years, but this year I finally have her "hair as black as ebony". And Kelsey is going to be Pocahontas, so we've got a Disney Princess thing going on.
Addie & Family Are Here!
My best friend, Addie, her husband and two (
TWO!!
) kids are here (within an hour of me) for the month. I am so excited to hang out with my best friend, play with her almost-two-year-old son and meet her brand new daughter!
TV
DOCTOR WHO IS BACK!!!
Season 7 premiered last night on BBC (I downloaded it and will watch it later today). I have been avoiding any spoilers or previews or news about it so I can just watch it and take it all in. The biggest spoiler I've seen is a picture of the new companion. (
New companion?!?!
)
The Mindy Project
premieres September 25th. (You can view the first episode online for free somewhere, but I might as well wait.) I'm hoping I will love this new girl-centered comedy in the same way I love
New Girl
. Which is also returning on September 25th. (
Yay!
)